It's a must that if you have a holiday planned you just have to get a new bikini right? Maybe that's just me, but anyway knowing I was going to France I had to take a look at what shops had to offer. I stumbled across this beauty, I really wanted to get a high waist bikini but I also had to make sure it was a halter neck (for my non existent boobies). I was browsing on Asos and came across this two piece the first thing that drew me to it was the flower pattern I thought it was so cute and I loved the colours so ordering this bad boy was a must!

This bikini was great for my holiday and to be honest I never wanted to take it off, I brought an old bikini along with me as well but this never saw the light of day. I love the high waisted aspect of this bikini as it covered my belly button (I hate it) but I also felt like it gave me a bit of shape. I'm afraid I don't have a nice photo of me showing of this bikini but this one off me jumping in the pool will do!

I wonder what bikini I'll choose next year...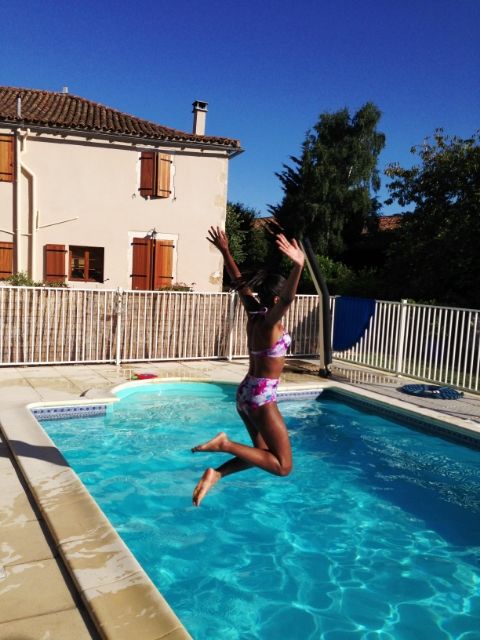 Now onto my hair... normally when I go on holiday if I can avoid getting my hair wet I will. But this time I decided to stop being so silly and to just go for it. My hair naturally is an afro but I have been relaxing it (chemically straitening) my hair since secondary school. So when it comes to my hair coming into contact with sea water or chlorine I do try and avoid it. However my hairdresser gave me a tip last year to cover my hair in Vaseline before I went into the sea or swimming pool sounds weird but actually creates a seal/barrier to help protect your hair.
SO,
before I got into the pool I made sure I plastered on a good bit of Vaseline and tied my hair up to try and protect it as much as possible.
After spending the day in the pool the last thing I wanted to do was spend forever blow drying my hair and straightening it. SO after I washed my hair while it was still wet I would put it in two French plaits and let it dry naturally. The next morning I woke up with curly hair and I loved it. I always want to curl my hair but never have the patience. This was a nice easy holiday style with
minimal
no heat used.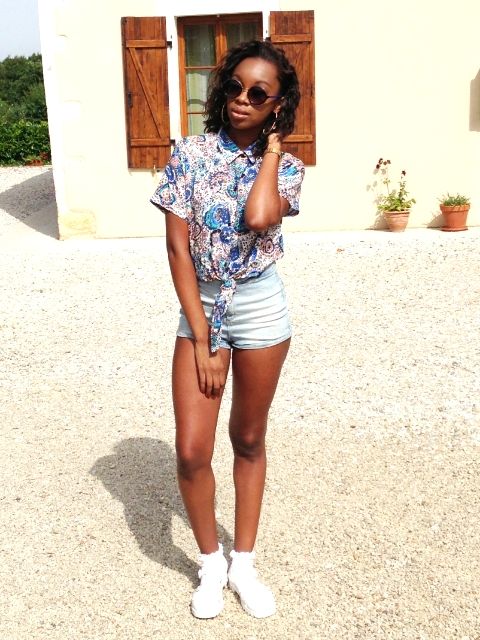 Top - American Apparel
Shorts - Topshop
JuJu Jellies - Topshop
Socks - Topshop
Glasses - Topshop
For my next holiday I will definitely be doing this again, however I may use more than two plaits to get smaller tighter curls. Now when it comes to products I do have a slight OCD about them, if its a range I have to buy the whole range and unfortunately when it comes to these products my slight OCD is costing me a fortune!

I was introduced to these products buy my hairdresser and I love them, Argan oil is great for your hair and these products are sulphate free and good for protecting your hair. Your hair is protected against heat, the weather as well as moisturising dry hair, strengthening damaged hair and taming fizziness . Which explains why these were perfect for my travels. I do find the shampoo slightly strange as it doesn't lather up as much as id like but the conditioner is amazing and you can really feel the difference after using it. The miracle 10 leave in conditioner also leaves your hair feeling great and is ideal for detangling your hair although I would advice not to spray too much as it could leave your hair slightly greasy. Now, the only downside is the price tag, as they are slightly on the pricey side, i brought these from Sally's but I'm sure you can get them online for a cheaper price.