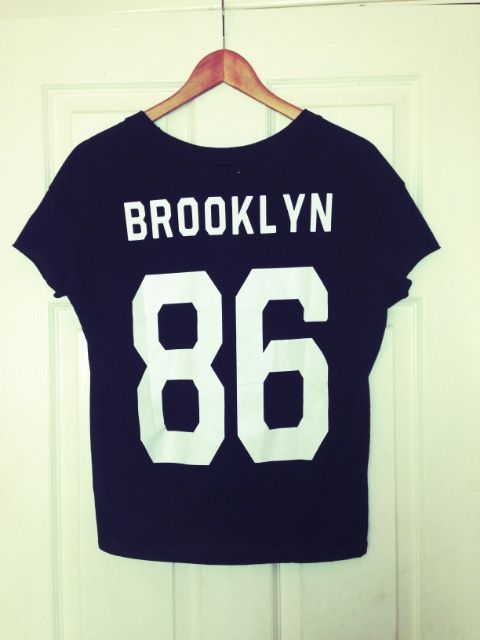 Zara £15
Once again I have been uncontrollable and need serious
serious
help, I just cant stop shopping. But never mind aye if it makes me happy I'm sure that's all that matters... The first thing I want to show you guys is this t-shirt from Zara it caught my eye a couple of weeks ago and to be honest I couldn't stop thinking about it so I had to buy it. This lettering is actually at the back of the t-shirt and the front is plain with a V-neck. For some reason I love the fact that its so simple at the front which is really what attracted me to it and at around £15 you just cant go wrong.
love it
Skincare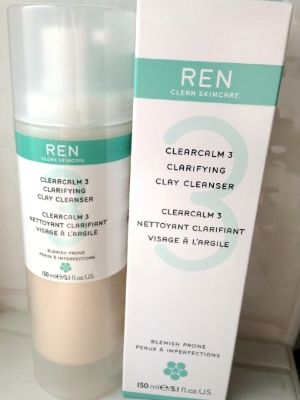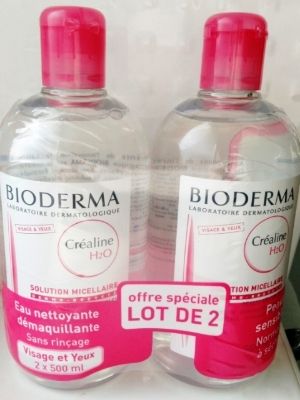 Now onto skincare... something up until recently I haven't been that interested in. I used to just pop to boots and pick the face wash that sounded alright and stick to it. I'm now starting to realise that when it comes to my problem skin investing into a more pricey product that does the job is a must. Which brings me on to Ren, I had been noticing their products recently and wanted to know what they could offer so I read a few reviews on their website as well as the space NK website and came across this clay cleanser. It's for blemish prone skin and the reviews were great so I cant wait to try it out for myself. I got mine from Marks and spencer's for
£18.
SO I think I was the only person who hadn't tried this magical bottle of water? I've seen all the amazing reviews and really just thought how amazing could this be?
Well,
after popping into a French pharmacy so my mum could get Nurofen I decided to have a little browse (French pharmacies are so much better than English ones!). I came across these bottles and quite frankly I just couldn't help but buy into the hype. I'm glad I did I used it for the first time yesterday and I love it, such a gentle product that it jus perfect for removing all make up. I'm not sure how much this cost me but I'm glad it is now more readily available to get from the UK.
Escentual
, £9.99 for a 250ml bottle.
Makeup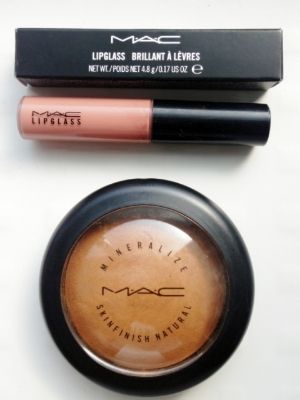 Is it just me or does your most essential make up run out at the same time? As there isn't really a Mac store just down the road from me I took to the internet to buy my most needed products. The mineralize skin finish is a regular in my make up bag and I get mine in the shade dark. I'm also completely running out on my concealer and DILEMMA every single shade of the studio finish concealer is out of stock. If Mac decide to discontinue this I will cry literally, I love this concealer and refuse to try another one! Anyway rant over, to make myself feel better I decided to order a Mac lip gloss which I
really
didn't need. I got the tinted lipglass in the shade Lust which is described as a 'soft muted pink' I'm not much of a lip gloss lover anymore (I used to be obsessed) but its a nice colour and gets a thumbs up from me.
Mac Tinted Lipglass £14
Mac Mineralize Skin finish Natural £22
Whenever I get new make up I am always excited to try it out but considering I've been searching for these two Sleek lipsticks for what feels like forever I was itching to get these bad boys onto my lips (that sounds weird...) Moving on, after going into about 10 different Superdrug stores and not finding these lipsticks ANYWHERE I decided to go online and order them off the Superdrug website. I am
in love
with the first lipstick which is Mystic. Both of these lipsticks are matte which I love but are not drying and feel good when you apply them. Mystic is supposedly a purple shade but to me it looks pink, I've always felt pink lipsticks just weren't right for my skin tone but as soon as I put this on I just had to take a picture! (as you can see below) If your looking for a lovely pinky-purply shade I really recommend this.
The second lipstick I brought was Exagerrate, after all the comments and thoughts on this lipstick I was actually looking forward to receiving this more than mystic but I'm not so sure. Its a lovely purple shade but I think for me its going to take some getting used to as I'm normally used to dark purples.
Mystic
&
Exagerrate
£4.99.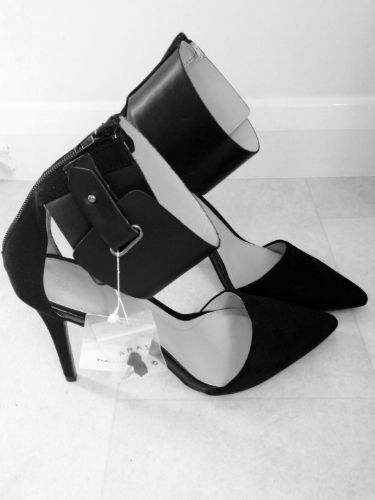 Oh Zara, why must you do this to me? This purchase was completely unnecessary yet it just felt so good. I love the simplicity of these shoes and they look great on. Now comfort rating out of 10 I would give these a 4 I guess I haven't worn these out yet but from just walking around my room I can tell I may struggle but hey their pretty so what's a bit of suffering when you have these on your feet! Oh and the price?
£29.99
I thought this was impressive for shoes like these. Bravo Zara.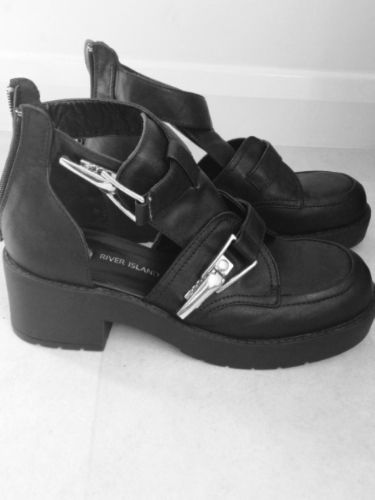 Now, before France I popped into town to get a few last bits and also decided to pop into River Island and although my bank account may not agree I'm SO glad I did! These cut out boots are my new babies. There's been so many knock off versions of the Jeffrey Campbells Coltrane boots but I've always thought even though they were a high street version the price was just not worth it. But this version just happened to grab my attention. They cost
£45
and I love them, they are so comfortable however bare in mind they do come up slightly big and I vary from a size 6-7 so I got mine in a size 6. I also believe New look do an even cheaper version so grab them while you can!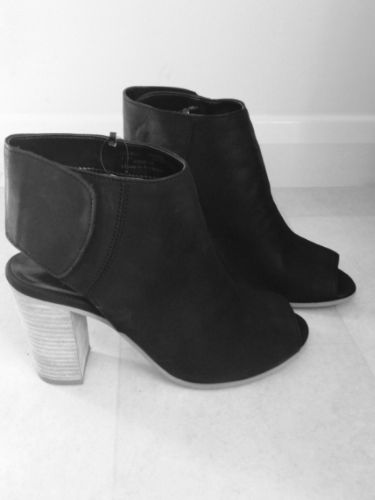 Can I just begin my saying I LOVE MY MUMMY! Great now we've got that out the way I can tell you about these beuts that my mum treated me to. We were taking our usual trip to next and as of late I just cant help but look at their shoe section and I am so glad I did. These are the most comfortable heels I have ever
ever
worn. These heals will definitely be worn to death as they are the type of shoes u can just throw on with an outfit without having to worry bout the state of your poor feet will be in at the end of the day. I must say they are slightly out of my usual price range costing £60 but since they were offered as an early birthday present I just couldn't say no...