Oh boy its been a while again, (slaps wrist) my excuse this time? I finished placement and went straight back into uni and just haven't really had the time to just chill and write posts. So I thought I would blab about what
exactly
it is I've been doing over the past week or so...
Apart from avoiding the fact I have a dissertation to do (when anyone even mentions that word to me I turn into the hulk) I've just been getting used to not working shifts anymore and getting back into the routine of uni, I'm getting closer and closer to finishing and I'm seriously feeling mixed emotions relief, excitement, fear etc. It's almost time to be a proper adult and earn my own money, am I ready?! Anyway putting all of these rambling thoughts aside I have been up to a couple of things, first things first Bills restaurant...
Let me start off by saying its definitely the first time I've ever had to queue fir breakfast but since we had gone all the way to reading just for Bill's there was no way I was leaving! Seeing everyone else get their food was a nightmare because I kept chaning my mind on what I was going to order, everything just looked so nice. The décor was so lovely and bright I just had to take a picture, anyway we didn't have to wait long to get seated and it didn't take me long to choose what I was going to have as soon as I saw pancakes on the menu!
I decided to try something different spicy chai tea, when it comes to drinks and tea in particular I love to try new and different things and lets just say I am now a chai tea convert. Afterwards I was on the hunt in the supermarkets for my own box. The pancakes were blueberry pancakes with strawberries, bananas, blueberries and syrup on top, oh boy I'm getting hungry just thinking about it. They were seriously tasty and I cant wait to go back to bills and try their fry up. The price of everything was very reasonable and the service was good so if you haven't been this is yet another place I recommend.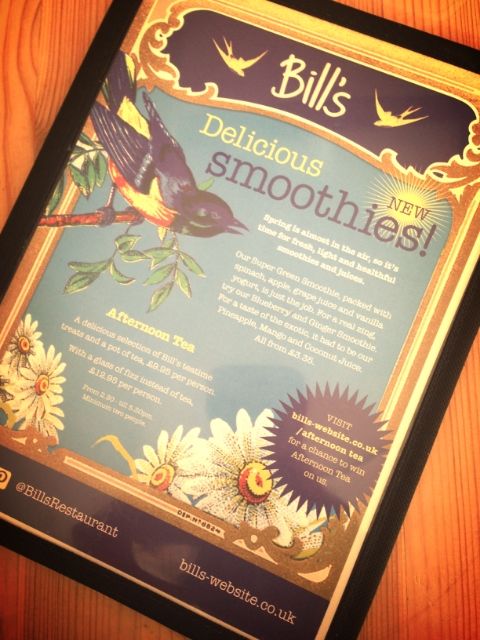 Now I was very lucky to get tickets to see Queen B after the drop of her surprise album and then the news of her concert lead to a lot of begging to my parents for not only her album but tickets to see her. I was lucky enough to get both, after learning all the songs I was definitely ready to see Queen B in action. Now I haven't mentioned this before but I am one of Beyoncé's crazy fans the first time I saw her I cried and have been slightly obsessed with her since the Destiny's child days (that's a true fan that is).
I decided to take my mum with me as she loves Beyoncé too so I thought it would be lovely to drag her along too. As soon as we got there I pretty much ran to the merchandise section and I have to be honest I really just wanted to spend all my money. I eventually settled for a surfboard sweatshirt, you don't even want to know the ridiculous price but I just couldn't resist.
Although we were so bloody high I felt ill (I have a serious fear of heights) with a glass of wine in one had I was ready for the show! I think I screamed from the time she came out until the concert was over, my poor mother. The highlight of the concert had to be when Jay Z graced the stage for Drunk in love as I've always wanted to see him in concert so that was
such
a treat.
Now I don't have another placement until June so that gives me a bit of time to focus on my blog as well as hopefully trying out some other restaurants and updating you guys. This seems to be the new thing for me at the moment and I must say I'm enjoying it. Hopefully over the next few weeks I can finally do some long awaited outfit posts if this weather holds up that is, the sunshine has definitely disappeared again.
Have you been out to eat anywhere nice lately?