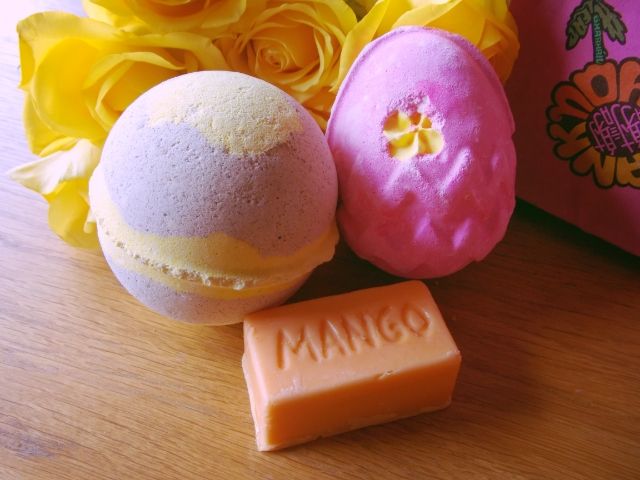 Let me just get my confession out of the way before I begin this post, this is only the second time I have brought any thing from lush. I know what is all that about?! But to be honest I used to just see lush as the super smelly shop with loads of perfumed products I couldn't use, due to my super sensitive skin I didn't want to risk it. However everything changed when I was dragged into lush one day by one of my friends and I found out everything was natural and handmade, I've been a lush convert ever since. Mt first purchase was around Christmas last year and it was the ever so famous Snow fairy shower gel, I was so upset when I finished it a couple of weeks ago.
To try and fill the gap that snow fairy has so sadly left I couldn't help but step into lush once again.. To be honest I walked in and felt completely lost there's just so much and I didn't have a clue where to start. A lovely shop assistant came over to give me some advice and guided me into the right direction, after about 20 minutes sniffing everything I settled with these three.
Honey Bee
I love honey so this bath bomb caught my eye, with honey, aloe vera, and rhassoul mud this bath bomb is perfect for soothing and cleansing your skin. This is the first bath bomb I tried out and its sweet honey smell makes for a great bath.
Fluffy Egg
This bath bomb caught my eye purely due to its pink prettiness, then I had a good sniff and was sold. It smells exactly like my beloved snow fairy and I jus had to have it. Its a candy scented bath bomb made especially for Easter so enjoy it while you can!
You've been Mangoed
After explaining I suffer from dry skin I was directed to the bath melts and the lovely shop assistant demonstrated just how silky smooth these bath melts can leave your skin. the citrus scent is a perfect way to wake you up in the morning while the cocoa, avocado and mango butters leave your skin nice and soft. I was advised I can either use all in one go or cut it in half either way I cant wait to see how it benefits my skin.

What's your favourite lush product?